Clients Stories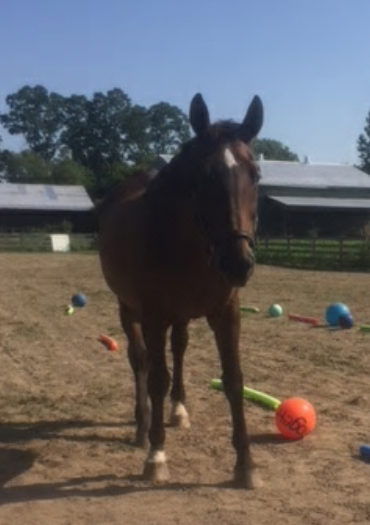 "I was overanalyzing everything, overwhelmed with my life and I was driven to the point of misery. After only one visit to the horse ranch, it was truly some of the best therapy I have experienced.
Adam:  Participant in "Breaking the Reins of Addiction"
---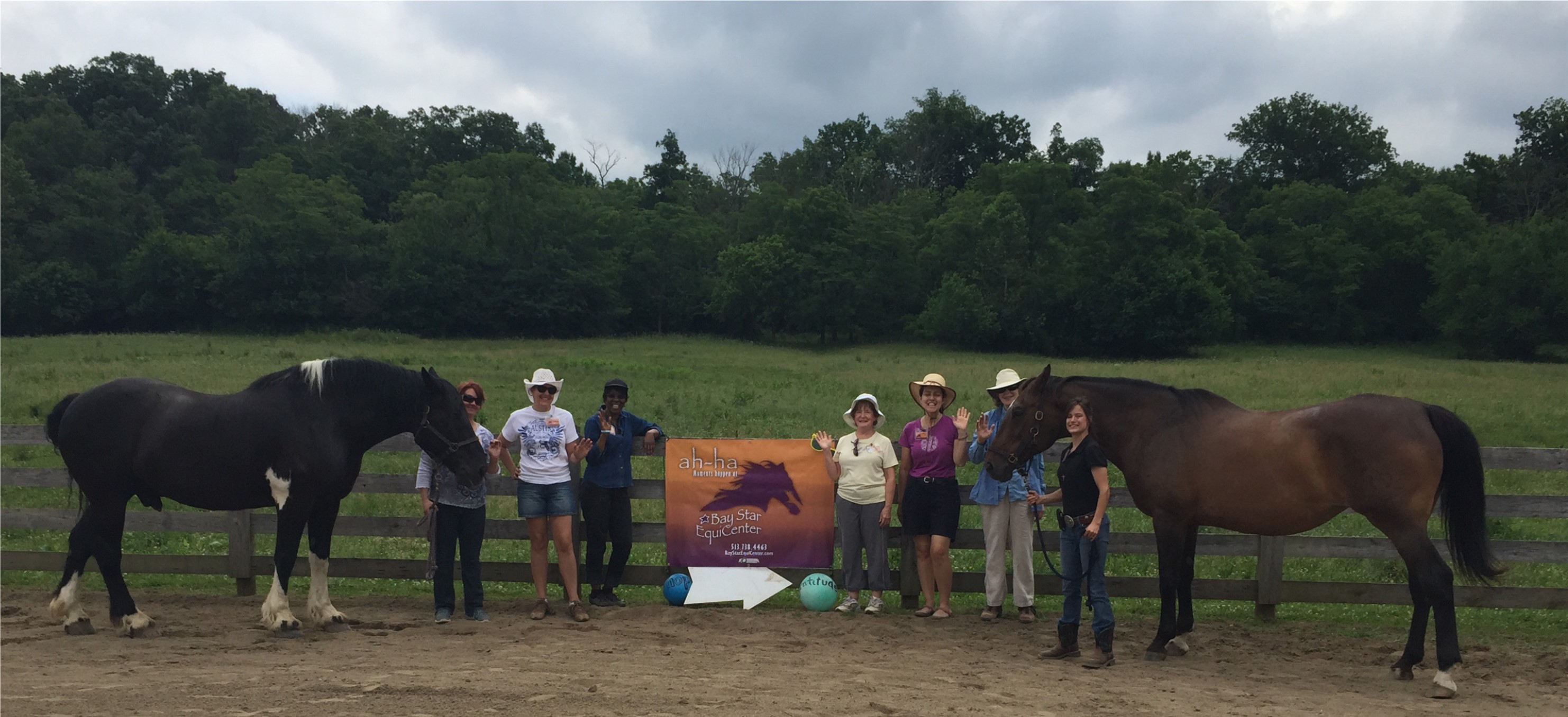 Thanks you for allowing me the opportunity to 'Take the Reins"! Who knew healing could take place on so many different levels in a Teamwork environment with Horses? I most certainly didn't, but i do now! Mary Jean and her staff are professionally trained and certified to help you experience your "Ah-Ha Moment". Go Explore the BayStar EquiCenter, Discover these Gentle Giants and Learn how you to can be Refreshed and Encouraged.
You'll be glad you did!
Linda, Participant in "Taking Control of the Reins"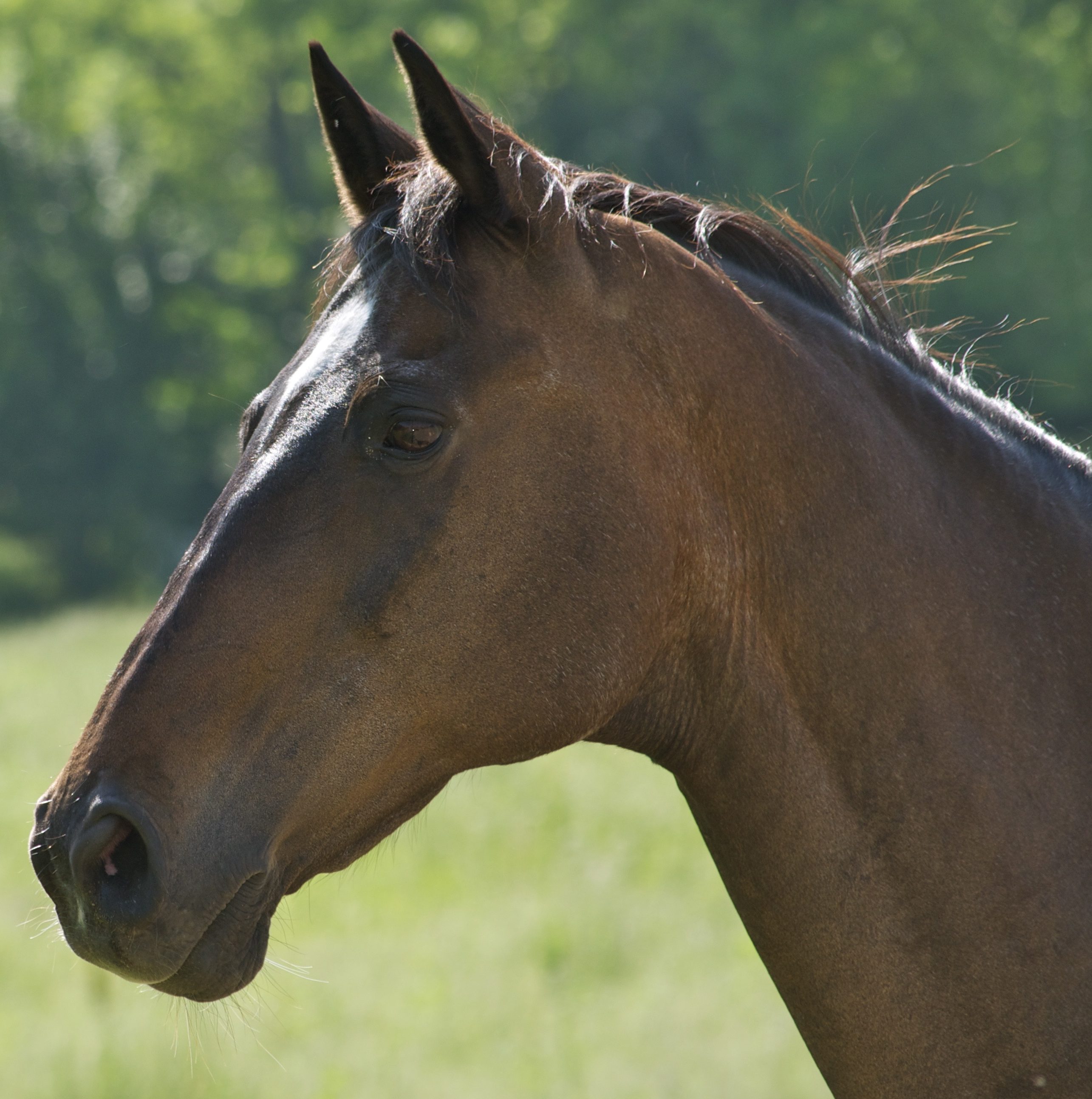 As a student and an emerging professional,  I spent an afternoon at Bay Star to learn about how an EquiCenter and the tools it provides, can benefit clients and influence their lives. I ended up receiving a personal gift regarding insights into my own life, that allowed me to experience first hand how this can be a beneficial process in the lives of clients. The lessons, messages, and imagery one receives from experiencing this program are all unique to the individual. My personal take away was about the significance of experiencing life to its fullest in the present moment and the chain of gratitude that may flow forth.
It was truly one of the best ways I have chosen to spend an afternoon.
Aarin,  Participant in "A Day for Families"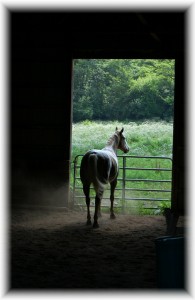 Mary Jean,
I am writing this testimonial today to let you know how much our family enjoyed our visit to your place! I remember thinking to myself "Horse therapy…really?? What am I going to be doing, telling the horse my problems?" I also have a fear of them…a pretty big one. I am allergic to everything under the sun as well and I was not looking forward to the sneeze fest in 100 degree weather! My family consists my husband Mike (38) , My son Noah with Asperger's, ADHD, Mood Disorder NOS and Bipolar (13), my daughter Carolyn (10), and my son Landon (5).
As we pulled up the first thing I noticed were 4 horses running around in the field. They looked "happy". They seemed to be playing with each other…Chasing, running, kicking up…it made me have my first "A-ha moment"…I might actually have fun! When we first met Mary Jean, Marae, and Loni I was SO impressed with how at home I felt with them. They were so warm and friendly…all of their employees were helpful and you could tell they really cared and were happy to have us there! They LOVED what they were doing! It was obvious!
They asked us to go up to the fence and take a moment to look at the horses…then came "A-ha moment" #2! 3 horses took off and one was standing by itself. The 3 were playing and one was all alone. I remember feeling sorry for that horse…it didn't occur to me until I wrote this that I felt sorry for it being alone just as I feel sorry my son Noah for being alone a lot as well. Noah said the horse was "The Lone Wolf" just like him…and the ladies helped him realize that it's OK to be alone. I see that now too…I spend a lot of my time worrying about him being alone. I fret about it a lot…but it is OK…I am alone a lot with my kids and I always thought it wasn't OK, but really it is. I am blessed..I get to spend quality time watching my kids grow up and not many people get that chance. It's OK for me to be alone too. This is going to change my way of thinking.
We went out into the ring and my fear was growing. I got closer to the horse and I stood off to the side. The horse kept turning away from me. "A-Ha moment" #3…I was keeping my distance because of fear, and so was the horse…I am realizing maybe I don't need to hold back in fear all the time. It's OK to just go ahead and not hold back in fear of everything. I worry so much about one of my kids getting hurt and that fear isn't always rational. It is just going to be mirrored in my children just like it did in the horse. I need to change that. Fear is not always a good thing. I was scared of letting go. I don't want my kids to have this fear as well.
We then did an exercise with a mini horse. Right at that moment my fear was melting away. Here was this little horse that I felt I could control because I was bigger then it…well that is an "A-Ha moment" # 4 if I ever saw one! HAHA! I have control an issue…Marae was speaking to me and I just let it fly right out of my mouth on my own! It is OK to NOT be in control! That is my fear of horses…I feel OUT OF CONTROL on them…I saw it like a blinking red light!
So at the end when they brought out "The Lone Wolf" horse, I went right up to it…no being afraid of it…no fears of not being able to be in control…no worries of allergies or heat issues…no sadness of it being alone and feeling sorry for it. Just a feeling of love and wanting to hug it for helping my family and I have this beautiful experience and making me see ALL that has been happening before my eyes and I am just missing it because I let these feelings get in my way!! All my inhibitions were gone! I have thought back many times to our visit. I have thought of it from different angles on how it relates to each of us in the family. Overall it was a beautiful experience! I am VERY grateful to Mary Jean and all those that work at BayStar for the gift they gave me that day! It has opened my eyes to things I was missing and helped my son realize that it's OK to be who he is. That is a BEAUTIFUL thing!!
Sincerely,  Holly

Participant in "Being Herd",  A  Family Communication Equine Assisted Learning Workshop 
 " I began this experience with fear and trepidation along with a curiosity and awe of horses! I left with a great sense of well being and a curiosity and awe of ME!!
The horses lead me to believe I can do all things if I just believe and trust in myself !!"
"Well worth time the time !! Loni and Mary Jean are great facilitators !! "
Beth:   Participant in "Believe You Can"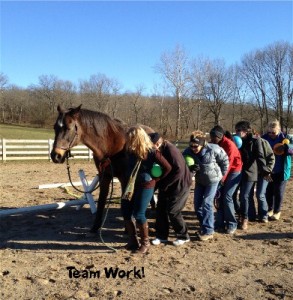 The realizations that become apparent through EAL are amazing.  The ah-ha moments keep coming even after the session!  I would highly recommend EAL.
I believe it could be especially useful for management teams to learn about each other, or finding the strengths of new or potential team members.
Lois Wellner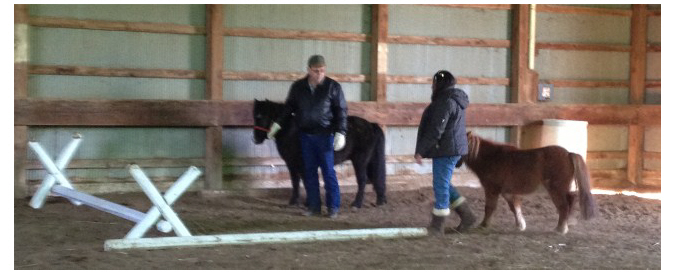 I want to thank Mary Jean and Loni for the workshop on December 13.   They were well prepared and very thorough. I am an ES, just learning the EAGALA method. Mary Jean and Loni spent as much time as necessary answering each of my questions. The attendees got to practice skills, using their "little ones". It was a fun and very informative day. I can't wait to return for another workshop.
Janet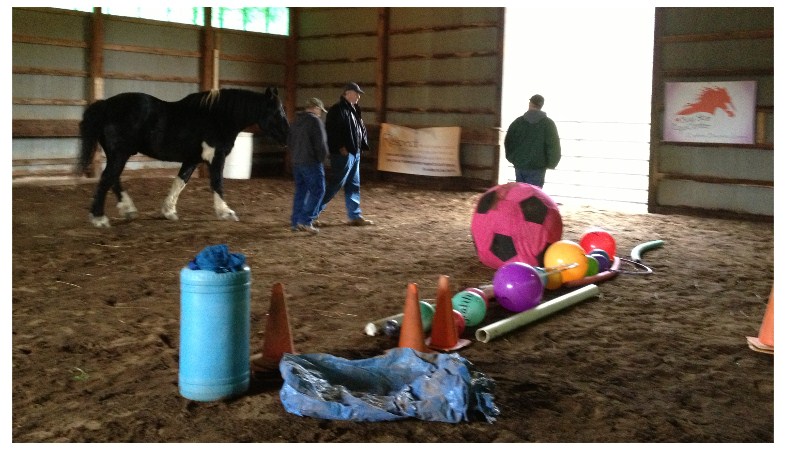 "Butler County SBDC wants to thank BayStar EquiCenter for letting a few of us experience first hand the training and learning possibilities that their center offers to Companies/Organizations and individuals. The four of us did an exercise on team building and came away with a whole new way of developing team unity and problem solving at the work place."
Dave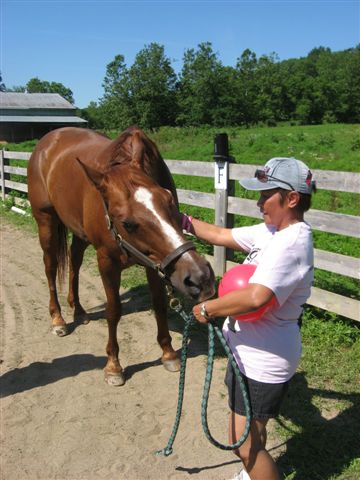 I have been to a couple of sessions, first the "taking control of the reins" and then the "ceremony of the heart".  I was honored to be invited back last week for a LIVE interview of Mary Jean and Loni about what these sessions are all about, what the program does to our inner senses, to our well-being, to our quest for an "ah ha" moment especially to those of us – breast cancer survivors and patients.
These horses proved over and over – in my three visits, that they can inspire and give me different insights to the different emotions that are going through my mind.  I have metastatic breast cancer, there is the face of the unknown cure, and there are fears of what the future may hold.  At times, I feel intense emotions, "I'm doing well", "I don't look or feel that I have stage 4 metastatic breast cancer" or "I am fearful" – that I am going to die from this disease. But you know what – since I inter-acted with these horses, a confidence in me to face the disease had been instilled just by leading the horses to those barricades we erected.  At first, "Dakota" stopped and would not budge, he looked at me, and I can feel him saying that "this is the barricade you put in your life"… his eyes seemed to say, "ignore the barricade, lead me to a path where obstacles are pushed aside and walk with head up high".  And I did. The horse can sense that there are obstacles and that to pursue and have the courage to fight for life is to push them away.
Second time, same horse with me, when a team mate leading Barley came the same path and I saw I will be in-between these 2 huge horses – but, Barley looked at me as he was nearing, his eyes seemed to say "you cannot be afraid, take our energy and lead it to where you will conquer all fears" and I did…. I came out of the path and was smiling.
After the metastases, my chemo treatments lasted from Nov. 19, 2010 to Dec. 16, 2011…. As I have been with the horses, I took their lead…their "horse wisdom" and because of that I gained a different insight.  I have hope, and these horses also taught me to enjoy life… pass all the obstacles and come up a winner.
And lastly, last week – another moment of great intensity – as I was leading my horse, live on camera and as if on cue: it nudged a pink ball with the word "COURAGE" – now, that is a truly "ah ha moment".  It told me courage is what I gained that day to continue my fight to survive!  My horse was not there to be on camera – it was there to continue giving me "horse wisdom", giving me confidence in myself… and be a winner!
So to all those who have not experience this interaction with these beautiful and very gentle giants – come and see for yourself.  If you are fighting for your life and it seems that there is no tomorrow…. integrate and explore these beautiful horses and gain their wisdom!
Josie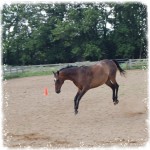 I honestly thought this would be an hour of awkwardness. I wondered, "What could I possibly learn from horses?" I decided to go anyway, because my therapist strongly suggested the equine assisted therapy sessions at BayStar EquiCenter. She told me I would probably benefit from this unique type of therapy. I'm glad I decided to go, because what I learned from the experience was enlightening.
As I observed the horses, I formed a hypothesis. The "light" horse was my recovery, and the "dark" horse was my addiction. They mirrored my own behaviors in my recovery and addiction. I set out trying to focus on the light horse (recovery), but was continually enticed by the dark horse (addiction). In my own life, I have wanted recovery in the past, but found my addiction still captivating. I observed the light horse (recovery) come to a mud puddle and pause. In my own recovery, I tend to stop and sulk in my problems, instead of dealing with them immediately. As I continued to watch, the dark horse (addiction) strolled over to a container filled with party supplies and knocked it over. This made a mess, just as I have in my addiction. The addict in me would seek a "party" and end up with a messy situation.
I went into this session at the beginning of my fifth attempt at recovery. The horses helped me visualize, and then identify unhealthy beliefs I needed to work on in order to recover. I previously thought addiction was more exciting than recovery. Since realizing and changing that belief, along with others, I have been able to progress farther in my recovery. I am thankful to BayStar EquiCenter for this experience. I look forward to my next session with the horses, so that I may gain additional insight in regards to my personal theories of recovery.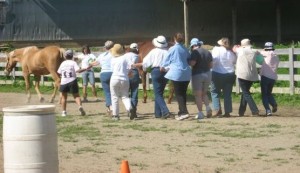 I've been to the BayStar EquiCenter twice for "Breaking the Reins" and "Ceremony of the Heart". I can't stop thinking about my experience, both times. If I lived closer, I would be there more frequently. The horses are truly amazing, gentle creatures.
The staff are wonderfully intuitive, with their gentle direction. Then, they know to stand back and watch what happens next. It was wonderful, I highly recommend the BayStar EquiCenter staff and the beautiful horses.
Thank you!
Fran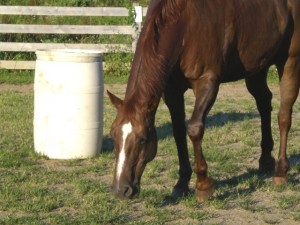 I couldn't have been more impressed with our group's recent experience at BayStar EquiCenter!  Loni and Mary Jean carefully crafted an opportunity for breast cancer survivors to explore, integrate and grow from their cancer journeys, and created opportunities for each participant to attain unique personal insights while sharing in a collective process.   Thanks to Susan G. Komen for the Cure for sponsoring this enriching experience, and thank you BayStar for providing exactly what was needed to help survivors "Take Control of the Reins."
 
Bonnie Crawford, LISW-S, LCSW
Program Manager


The Wellness Community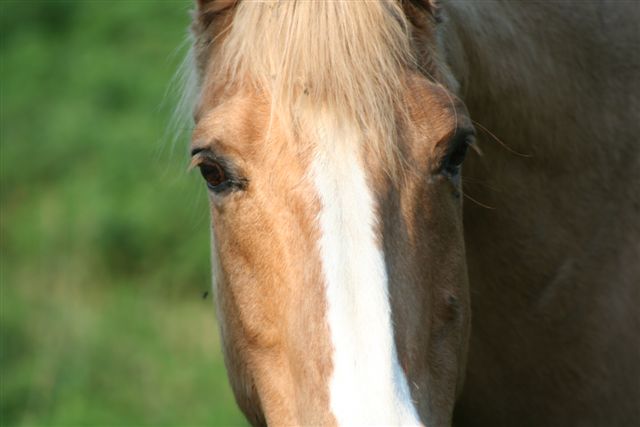 I had the wonderful opportunity to participate in "Taking Control of the Reins" at the BayStar EquiCenter on March 23, 2011. It was my first interaction with horses and with Mary Jean and Loni's guidance it was a life changing experience. Being able to work with those gentle giants created a magical day. The feelings I experienced wash over me today and I am transported back to the farm and can actually feel the horses again.
If anyone has the opportunity to attend a EAP session at Bay Star they will be blessed.
Thank you for the opportunity,
Miriam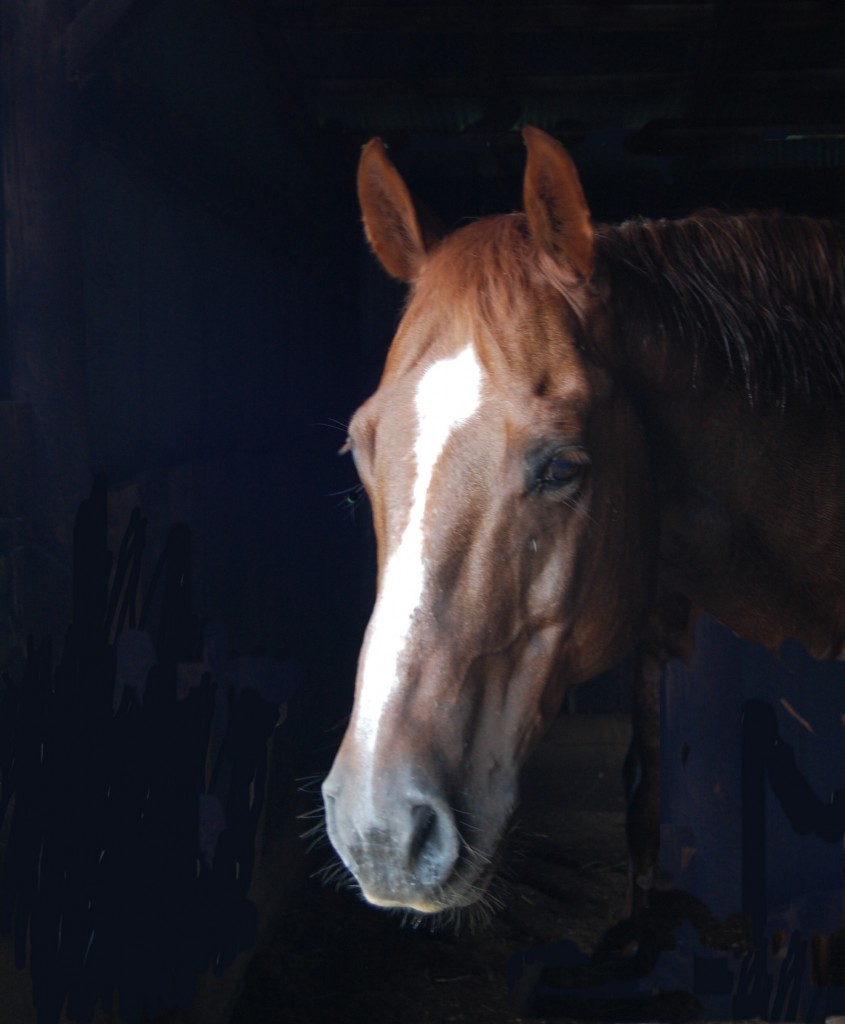 On April 10, 2010 I visited BayStar EquiCenter and that was the day that changed my life for the better in the most unexpected way.  I participated in an EAP session in which I had no expectations at all and no clue as to what I would be doing.  All I knew is I would be interacting with the horses and that seemed exciting to me.  What I didn't realize is how this beautiful loving equine creature would change my life forever with the professional guidance from Mary Jean, Loni and Dr. Nikki Instone.   I was guided through several tasks with the horse of my choice and to my surprise it resulted in me facing some fears that had hindered my life for a very, very long time.  I learned a lot about myself that day and will always be grateful for Dakota, Mary Jean, Loni and Nikki for their sincere kindness, sensitivity and professionalism.   Facing those fears has changed my life in such a way that one would almost say it was magical.   I would highly recommend this type of therapy for anyone and will definitely return anytime if needed!  Nikki you made a great choice to work with Mary Jean and Loni at BayStar.  Thank you so much.   
With sincere gratitude,
Sherry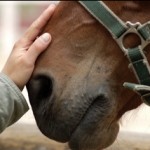 As a psychologist, taking client to BayStar EquiCenter to work in the EAGALA model, I am always amazed.  
Clients experience powerful "ah-ha" moments, have emotional releases and gain insights into themselves.  The potential for therapeutic moments is present throughout the entire process.  I see it as a valuable adjunct to my therapy practice as I believe that anyone who is open to the experience can benefit.
The best word I can find to describe Equine Assisted Psychotherapy "phenomenal"
 

Dr. Nikki Instone          
I wish I could explain what happened to me at a few sessions I have had, it is amazing when the "ah-ha" moment hits you.They are very professional, understanding, and wonderful caring people to offer such programs. I want everyone I know to come and experience what I did so they can keep this up for all those in need. Everyone will learn something from their sessions I promise, I did . Thank You- for all you do.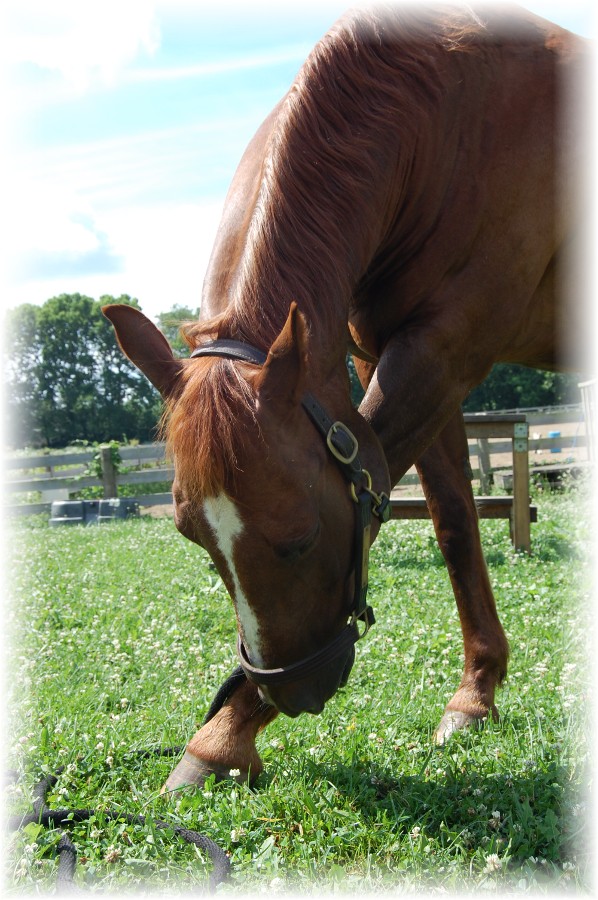 Sue
I thoroughly enjoyed my time spent with Equine Assisted Learning at Bay Star EquiCenter.  It was an experience I'll never forget.  It gave me another way to look inside myself for answers.  It was quite amazing.  Mary Jean and Loni were total professionals.  For me, it was intense and fun.  I would highly recommend it to anyone that wants to find out more about themselves.
Francie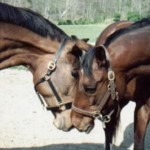 I had the privilege of attending an EAL workshops at the BayStar Equicenter.  The first experience was individual, the second was with a group of woman, many who were friends.  The individual experience was enlightening to me because it was focused around a loosely defined fear of mine.  The "ah-ha" moments for this experience happened slowly and took more time to sink in.  Ironically, another "ah-ha" moment just hit me as I reflected on my experience to write this.  This self-introspection and reflection that Equine Assisted Learning gave me carries over monumentally in my life in big and little ways from just one session.  The group session had nearly instant impact on me.  I could see the way in which I interacted with a group, and this gave me confidence in myself in a group dynamic.  It also allowed me to instantly see the way in which someone close to me handles group interactions.  This moment of truth, as I witnessed it, made a lasting and positive change in the way we interact with each other.  I am always eager to experience EAL because each experience thus far provided me with valuable insight into myself and provided a way in which unrealized  behaviors and habits of mine could be observed and therefore verbalized, and then ultimately improved.
Margaret Frank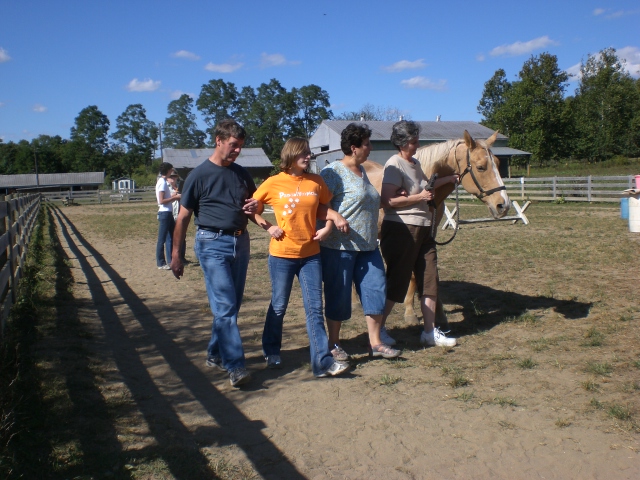 "We had a wonderful experience at the Bay Star EquiCenter.  We learned so much about our family unit and ways to make it even better than before.  The horses were great to work with and it is amazing how responsive they were in the sessions.  Every day we expand on what we learned and incorporate it in our daily lives."
Mary G.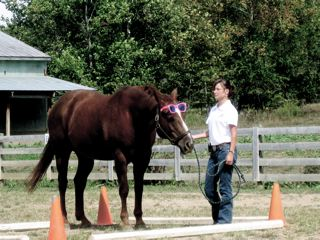 Hi Ladies,
I can't thank you enough for letting us join you today with the horses!!!  This is Kristi, the one who was terrified of horses lol.
I can't even begin to tell you how scared and nervous I was.  But… as of right now, I'm in the best mood I've been in in a really long time.  It was such an amazing experience for me, I'm so giddy…its unreal, I feel like I just won the lottery or something!!!
In a way, emotionally I have, because I am so proud of myself for doing what I did today.  I didn't even think I'd be able to get near the horses.  But I did!!!   Wow wow wow… I could say so much right now, but I won't… you ladies are probably very busy.  I can't wait until I see Susie tuesday, so I can talk this over with her.    I know its going to help in a lot of ways.
I just wanted to thank you AGAIN for letting us "play" with your horses today.  🙂      Thank you SO MUCH!!!  It was such an awesome, uplifting experience.
Sincerely,

Kristi